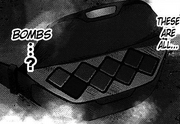 The BIMs are a special type of bomb in the Btooom! game. They were used in the online version of Btooom!, but were also used in the real-life Btooom! game.
Description
The BIMs are usually made from a dark, unknown variant of dark, with a futuristic design. Of course, each BIM type has its own unique design. The BIM can only be activated by the original user. How this user is "modified" for the bombs is unknown, but the bombs do only need a fingerprint of this user. This means that other users can use these BIM as well, so long as they are activated by the original user's fingerprint and are then deactivated by that other player. Players of the real life Btooom! game keep their BIMs in specially designed bandoliers, accomodating the shapes of each BIM type they come with for storing and accessing with ease. These bandoliers can hold up to eight BIMs and are only used in the real-life game. In the online Btooom! game, players keep their BIMs in an attachment on their left arm and can hold up to eight BIMs.
Types of BIM
Throughout the game, there are several types of BIM that a player can use.
References
Ad blocker interference detected!
Wikia is a free-to-use site that makes money from advertising. We have a modified experience for viewers using ad blockers

Wikia is not accessible if you've made further modifications. Remove the custom ad blocker rule(s) and the page will load as expected.